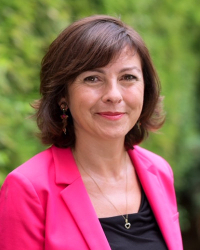 Carole Delga

Presidente of the Région Occitanie / Pyrénées-Méditerranée
---
After studying in Toulouse and Montpellier, she joins the Territorial Civil Service. She worked at the Limoges city council, then managed the Barousse's Water Union, and finally joined the management team in charge of Land Planning Agency for Conseil régional Midi-Pyrénées.
In 2008, she was elected as mayor of Martres-Tolosane and was re-elected in 2014.
In 2010, Carole Delga became vice-président of the Région Midi-Pyrénées.
In 2012, she was elected as deputy of the Haute-Garonne department. From June 2014 to June 2015, she joins the French Government under Prime Minister Manuel Valls, as Secretary of Commerce, Crafts, Consumer Affairs, and Social Solidarity Economy.
On January 4, 2016, she was elected President of the Région Occitanie / Pyrénées-Méditerranée.